2/25_The 1st Kagoshima Forum of the Japan Society for Hyperdisciplinary Research】New Strategies to Draw Out and Communicate the Potential of Agricultural, Livestock, and Fishery Products
2023.02.14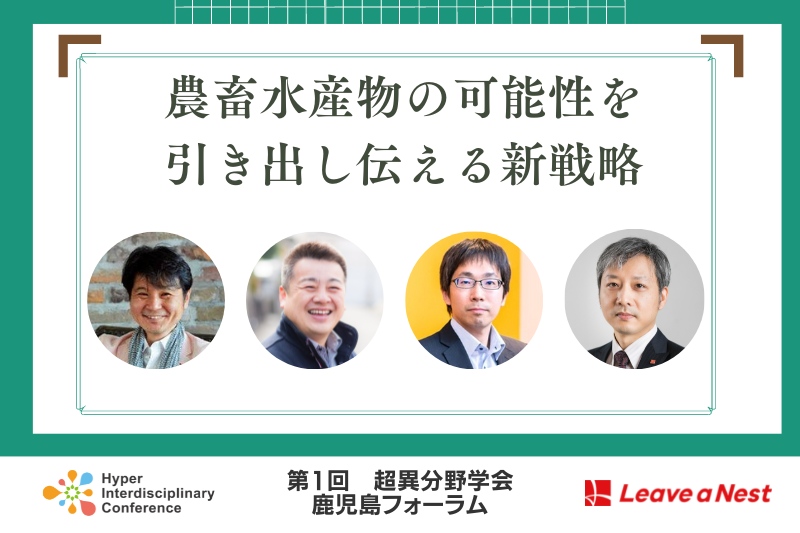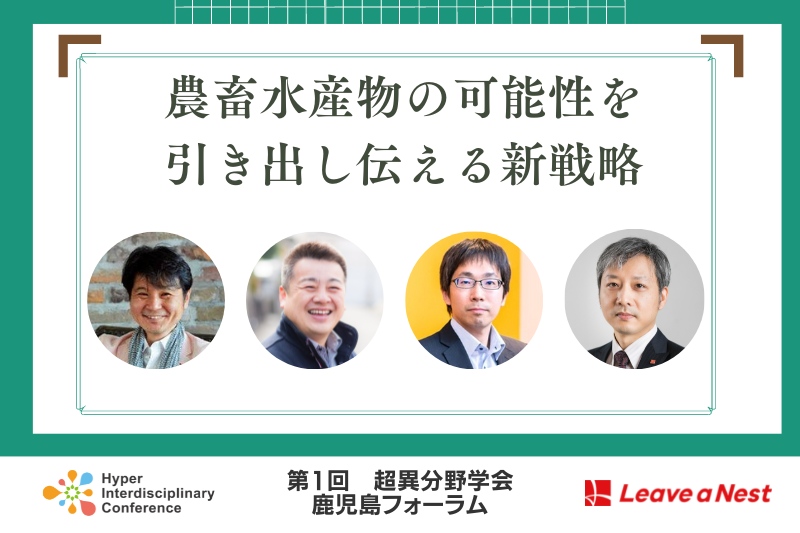 A panel discussion titled "New Strategies for Unlocking and Communicating the Potential of Agricultural, Livestock, and Fishery Products" will be held at the 1st Kagoshima Forum of the Association of Hyperdifferent Fields (Saturday, February 25, 2022), hosted by RIVANES.
=================================
The 1st Kagoshima Forum of the Association of Hyperdifferent Fields (https://hic.lne.st/conference/kagoshima-1st/)
Date: Saturday, February 25, 2023, 13:00-18:30
Conference Theme Achieving Sustainable Agriculture, Forestry, and Fisheries through Science and Technology
Kagoshima is one of Japan's leading agriculture, forestry, and fisheries prefectures. Kagoshima boasts the nation's largest number of pigs, beef cattle, and sweet potatoes, as well as a large concentration of food processing plants that process a wide variety of foods such as shochu, black vinegar, and dried bonito flakes, and has developed an industrial base while effectively utilizing its blessed natural environment. In the future, the fusion of agriculture, forestry, and fisheries, which is Kagoshima Prefecture's greatest strength, with knowledge from different fields such as energy, healthcare, robotics, and IoT could create new value and a strong culture that will once again attract global attention from a region where the population has long been declining and the birthrate is aging. In this forum, researchers, venture companies, and business firms from within and outside of the prefecture will gather to discuss mechanisms that can be implemented only in Japan's leading prefecture of agriculture, forestry, and fisheries, in light of the coming changes of the times.
=================================
panel discussion
A new strategy to unlock and communicate the potential of agricultural, livestock, and fishery products
What is needed to increase the value of Kagoshima's agricultural, forestry, and fishery products? To achieve this, it is necessary to understand the needs of the consumers to whom the products are delivered, and to draw out and communicate the functions of the agricultural products, but this cannot be done overnight. In this session, we will discuss a new strategy to promote food from Kagoshima with a health food marketing professional, a venture company aiming to realize individual optimization of food, and a company in Kagoshima Prefecture aiming to utilize local resources.
speaker
Mr. Akihiro Hara
Universal Standard Corporation
Representative Director, President and CEO
As a "mail order planning and trading company" that has been in business for over 40 years with a strong focus on beauty and health foods, we create and develop new businesses not only in Japan but also in Asia. We plan and sell hand gel "Omamori Tetote" and beauty vinegar in collaboration with the oldest natural vinegar fermentation black vinegar brewery in Japan.
Mr. Masahiro Koyama
Wernas Corporation
Representative Director
Since 2008, he has been involved in research at the Nakamura Laboratory, Faculty of Agriculture, Shinshu University. He has experienced the improvement of his long-standing problems with high blood pressure and sleep disorders through the use of choline esters, and feels it is his mission to bring the benefits of choline esters to as many people as possible. After working as a researcher at the same laboratory, he established Wernus, Inc. in 2017.
Mr. Satoshi Kuramoto
Yale Corporation
Representative Director
Born in Nagasaki Prefecture. After graduating from the Faculty of Education at Saga University, he joined Yale Corporation (headquartered in Ibusuki City) and became its representative director in 2004. While his main business of manufacturing electrical components accounted for 90% of his sales, he focused on okra, which Ibusuki City produces the largest amount of in Japan, as a new business theme. He has been engaged in the pulverization of off-specification okra and has been developing okra-related business as an ingredient for processed foods and health foods.
Moderator.
Masahiro Ikegami
Director and CFO, Liverness, Inc.
Representative Director, Liberace Capital Co.
Born in Kagoshima, Japan. Graduated from Tokyo Institute of Technology, Faculty of Bioscience and Biotechnology, and founded LIVERNESS Corporation in June 2002, where he was appointed as Director and CFO. Since December 2014, he has served as the managing director of the Real Tech Fund, an investment fund specializing in university-launched R&D ventures, and since January 2020, he has served as the representative director of Riverness Capital Co.
Registration for auditing and participation is now open.
We look forward to welcoming visitors from academia, venture companies, local businesses, large corporations, local factories, local government, junior high and high school students, and many others.
Contact information for inquiries
Contacts RIVANES Corporation, Community Development Division
Attn: FUKUDA, MIYAUCHI
TEL03-5227-4198